Trip Facts
| | |
| --- | --- |
| Trip Duration: | 20 days |
| Max. Altitude: | 5716m (Mula Pass) |
| Grade: | Strenuous |
| Program Type: | trekking |
| Best season: | February to May, August to October |
Overview
Dolpo is isolated region situated between Dhaulagiri range and the Tibetan plateau. Also referred as the last enclave of pure Tibetan culture, landscape, Buddhist religion this place was only open after 1996 for the foreigners. People here live 4300m high above sea level and still practice the pre-Buddhist Bon po or shamanistic religion. Peter Matthiessen's "The Snow Leopard" and David Snellgrove's "Himalayan Pilgrimage"and Eric Valli's superb film "Caravan" has contributed mystique Dolpo to outer world.
To begin this 20 days incredible journey of Lower Dolpo Kakkot Mukot area, we first fly to Nepalgunj and onward to Juphal, headquarter of Dolpo region. We walk through vast and rugged landscape; villages inhabited by Tibetan descendent people. Likewise, we cross few high Himalayan passes, enjoy serenity of isolated region visit different ancient monasteries and chortens on the way.  We'll be crossing Mula Pass on our way to Jomsom. From there we fly to Pokhara and drive back to Kathmandu.
Important note:
a. Lower Dolpo Kakkot Mukot trek crosses high Himalaya altitude of over 5000m with extreme temperatures of -10 to -20 degree. It is crucial to follow expedition style camping trekking facilities with highly experience Sherpa and staffs.
b. The itinerary is well designed in order to allow proper rest and acclimatization to cope high altitude. Though trekkers should have well fitness and in good health condition.
c. Flight between Nepalgunj to Juphal and vice versa is generally reliable. In case of bad weather, flight is cancelled often and to avoid missing international flights, we recommend 2-3 days extra at end of your trip.Also be prepared to pay some extra money for Helicopter flights. Which may cost $ 300 – $ 800 or more depending on persons on the flight. For group, we normally charter helicopter flights. Make sure that you have full-fledged insurance coverage arrangement. In our program there is two night as buffer day in case of unforeseen circumstances.
Day 1 – Arrival in Kathmandu

Day 2 – Fly Kathmandu to Nepalgunj

Day 3 – Fly Nepalgunj to Juplal and trek to Dunai (2150M) 2-3hrs

Day 4 – Dunai to Tarakot (2370m) 6 hrs

Day 5 – Tarakot to Mushi Khola (2875m) 6 hrs

Day 6 – Mushi khola to Kakkot (3252m) 6 hrs

Day 7 – Rest day in Kakkot

Day 8  – Kakkot to Ghorang (3800m) 6hrs

Day 9 – Ghorang to Terang (3550m). 6hrs

Day 10 – Terang to Mukot Gaon (4170m) 6hrs

Day 11 – Mukot Gaon to Mula high camp (4879m) 7hrs

Day 12 – Mula High camp to Mula pass (5716m) to Yak Kharka (4000m) 6 hrs

Day 13 – Yak Kharka to Sangda la pass (5515m) to Gowa Phedi (5245). 7hrs

Day 14 – Gowa Phedi to Sangda Kharka (4250m)

Day 15 – Sangda Kharka to Kagbeni  (2810m)

Day 16 – Fly Jomsom to Pokhara. Free day

Day 17 – Drive Pokhara to Kathmandu

Day 18/19 – Contingency or spare day

Day 20 – Trip ends, farewell and departure
Day 1 – Arrival in Kathmandu
Welcome to Nepal! Ramdung Expedition representative will meet you at the airport and bring you to your hotel in Kathmandu. You can take a rest or if you are arriving earlier, can visit around the city.
In the evening we will hold a briefing session regarding your trip and get to know your Nepali trekking companion. We'll be happy to answer any question you may have. O/N Hotel.

Day 2 – Fly Kathmandu to Nepalgunj
We take an hour's flight from Kathmandu to Nepalgunj in Western part of Nepal. Nepalgunj is a border town near Nepal India border and is the gateway to Simikot of Humla. The town itself is an interesting Terai town of Nepal with influences from both the Nepal hills and plains well as local Hindu & Muslim cultures. Some sightseeing places in Nepalgunj include Mini Zoo, Muslim bazaar, or if possible and interested take a walk into nearby villages can be done. We have to also make preparation for tomorrow's flight to Jhupal. O/N Hotel (BLD)

Day 3 – Fly Nepalgunj to Juplal and trek to Dunai (2150M) 2-3hrs
After an early breakfast you'll be transfer to the airport for a morning flight to Jhupal, a super scenic flight of 45minutes brings you at Jhupal over the Himalayan foothills, with views of Annapurna and Dhaulagiri peaks to the north. On arriving at Jhupal our trekking staffs will receive you. Our first day adventure begins through the terraced fields to the Bheri River and the narrow gorge taking 2-3 hours to camp at Dunai. Dunai is the administrative headquarter of the Dolpo region. You have time to stroll around for local knowledge. O/N Camping (BLD)

Day 4 – Dunai to Tarakot (2370m) 6 hrs
After breakfast we start our trek continues along the south bank of the river heading upstream on a good trail. A tremendous gorge with pine trees and an ingenious path built about seven meter above the river, to Tarakot where colorful terraced field greets us. Tarakot is an old fortress town built by the local people as Dzong or fort. The famed Sandul Gompa lies farther east from Tarakot and at the junction of Barbung khola and Tarup chu (river). The village stands on a hillock to the south of Bheri River at one time supervised collection of tolls for the trading caravans. Overnight camp is made by the river about 150 m below the village, near the police post or we climb a steep ridge for an hour to the village on a spur, where there are chorten in a Gompa on the edge of grassy plateau, with a solitary tree. O/N Camping (BLD)

Day 5 – Tarakot to Mushi Khola (2875m) 6 hrs
From Tarakot, just after the bridge back a little in the Valley Barbung Khola. A Very nice trail on the side of a valley with a few hills furnished. After decent short there in small lodges and before crossing the bride on the left bank of the Barbung River. We camp for the night at a large meadow. O/N Camping (BLD)

Day 6 – Mushi khola to Kakkot (3252m) 6 hrs
The trail continued to blank above the gorge to a very old wooden bridge, then stiff back across to join the bench with trees until the valley windens into floodplain (two houses in a pasture on the the left handle). The trail is right back to the village. In the curve of the valley steps can take a spur (high water). The village is pressed against a cliff, very protected from the wind, a little above the Barbung Khola. O/N Camping (BLD)

Day 7 – Rest day in Kakkot
Today, we'll acclimatize to height nearly 4300mtrs. After having breakfast we continue our journey to the hill that we see opposite of Kakot village. Our cook will prepare packed lunch for us today. We'll climb for almost 3 hour to reach at the top of the hill. From where we can see the magnificent view of Putha Hiunchuli mountain then we descend to our camp.  O/N Camping (BLD)

Day 8  – Kakkot to Ghorang 6hrs
After having breakfast we'll trek ascending the gorge with spectacular views of the back side of the Dhaulagiri massif formed by Hinchuli (7240m), Churen Himal (7364m), Dhaula Himal IV (7661m), Dhaula III (7715m) and Dhaula II (7751). O/N Camping (BLD)

Day 9 – Ghorang to Terang (3550m). 6hrs
Today is short day trek along with Bharbung Khola valley to reach Terang village which is picturesque. We spend relaxing time around the old Dolpo village. O/N Camping (BLD)

Day 10 – Terang to Mukot Gaon (4170m) 6hrs
Turning away from Barbung Khola we head to south east direction following Mukot khola. The landscape is striking and we see magnificent view of six Dhaulagiri peaks ranging from 7268 to 8167 meters along with Sita Chuchure (6611m), Gurja Himal (7193m). Today we walk steadly for around 6 hours to reach Mukot Village. O/N Camping (BLD)

Day 11 – Mukot Gaon to Mula high camp (4879m) 7hrs
We follow Mukot Khola. There is Mula Tal (lake) on the way then we camp in the Mula high camp to cross Mula pass tomorrow. O/N Camping (BLD)

Day 12 – Mula High camp to Mula pass (5716m) to Yak Kharka (4000m) 6 hrs
It is gradual ascent over snow and slopes. The Mula pass at 5716m offers picturistque view of Dolpo, Mustang area and amazing Dhaulagiri peak behind us. We head steeply downhill along rock covered mountainside to our campsite which is Yak kharka or grazing area. O/N Camping (BLD)

Day 13 – Yak Kharka to Sangda la pass (5515m) to Gowa Phedi (5245). 7hrs
An easy ascent take us to Sangga la pass (5035m). View of Dhaulagiri and Mukot as well as Upper mustang seen from here is amazing. Then we descend to Beri Khola for lunch. We continue with short climb to cross Sangda la pass (5515m) and descend steeply to Gowa Phedi. O/N Camping (BLD)

Day 14 – Gowa Phedi to Sangda Kharka (4250m)
We walk down the river on steep trail then cross suspension bridge before climbing to the valley shoulder. After having lunch as Sangda, we climb for few hour to reach Sangda Kharka.

Day 15 – Sangda Kharka to Kagbeni  (2810m)
We travel through number of ridges to cross valley down to Kagbeni. On the way we view Kali Gandaki Valley and thorong la pass at distance. The mountain view of Thorung peak, Nilgiri and Annapurna as along side of our trail. Then we take jeep ride to reach Jomsom from Kagbeni. O/N Teahouse (BLD)

Day 16 – Fly Jomsom to Pokhara. Free day
Early morning fly from Jomsom to Pokhara. It is all up to you visiting different places around Pokhara valley such as Fewa Lake, Devi's water fall, Museum, Tibetan refugee settlement, Gupteshower cave and many more places as per the choice. O/N Hotel (B)

Day 17 – Drive Pokhara to Kathmandu
It takes 7hrs long drive along Trisuli river and various settlements to get back to Kathmandu.
You can spend time resting/buying souvenirs back to home. In the evening, we will host farewell dinner in traditional restaurant with cultural dance performances in celebration of your amazing trip. O/N Hotel (BD)

Day 18/19 – Contingency or spare day
we can use these days to acclimatize in any place of the itinerary. 
On last evening, we will host farewell dinner in traditional restaurant with cultural dance performances in celebration of your amazing trip. O/N Hotel (BD)

Day 20 –  Trip ends, farewell and departure
The journey in the mountains of Nepal comes to an end today ! At last approximately 3 hours before your scheduled flight, a representative from Ramdung Expedition will drop you to the airport. (B)
Cost Included
All airport – Hotel – Airport transfers (Pick up and drops)
Sightseeing tour in Kathmandu by Tour guide, entrance fee included
3-4 nights standard hotel in Kathmandu, b/b plan
1 full board in standard hotel in Nepalgunj.
Dolpo special permit, National park & conservation area fee and all permits needed.
One English speaking experienced Nepali guide
1 cook, necessary porters and mules for carrying loads
Nepali staffs wages, daily allowances and insurance
2 Men tent, Mattress , dining tents , kitchen tent, toilet tent, all necessary kitchen utensils
Camp-Site Charges
Food : 3 meals a day during the trekking day, tea and coffee
Twin sharing accommodation in tea house/lodge
Farewell dinner
Rescue evacuation co-ordination (covered by your travel insurance)
Flight : Kathmandu-Nepalgunj-Dolpo and Jomsom to Pokhara, domestic taxes
All transportation as per the itinerary
All government tax, vat & office service charge
Related Packages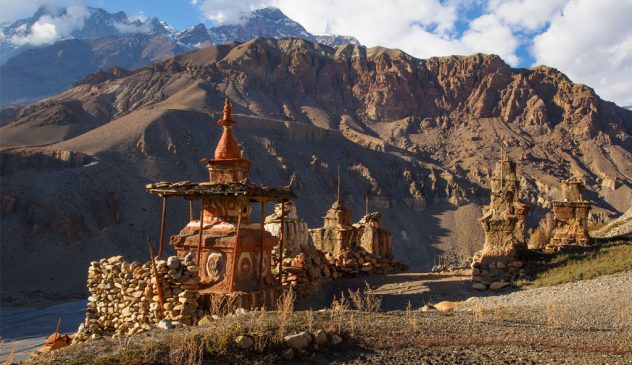 Destination: Dolpo Region
Trip duration: 25 days
Minimum Pax: 2 pax
Max Altitude: 5,190m/17,028ft at Numa La Pass
Explore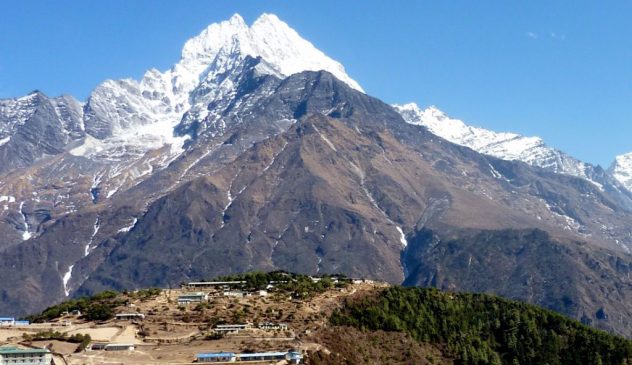 Destination: Dolpo Region
Trip duration: 18 days
Minimum Pax: 2 pax
Max Altitude: 5,360m/17,580ft
Explore